Personalisation is not as simple as saying 'you' in your content anymore.
B2C brands like Netflix have changed the game completely, and it's more important than ever that B2B companies catch up and start paying attention.
The 'because you watched' section is enough to turn anyone (particularly me) into a binge-watching brand advocate, but Netflix go even deeper by personalising the artwork and visuals of each show to suit each user's interests. Those who watched more Uma Thurman movies, for example, will be more likely to see her on the cover of Pulp Fiction than John Travolta.

So what can B2B marketers learn from this? To deliver personalised marketing, you will need to make your audience feel important, special, and heard - like you've just read their mind and are here to solve their pain points.
Below are four practical ways you can personalise your marketing to your target audience.
Detail and document buyer personas
First of all, in order to personalise your marketing for your target audience, you need to make sure your audiences are clearly defined first.
It is incredibly common for companies to not document their buyer personas or have them on-hand for their sales and marketing teams to access at any time. It's easy for leaders within the business to think that everybody already knows who they are targeting, just because it's been brought up in conversations and meetings.
But you need to dig deeper for a better understanding of your target audience's:
Background

Demographics

Communication preferences

Goals

Challenges

Most common objections to your service
If you've still yet to create a buyer persona document for your business, start here with our guide. Understanding a person's aspirations, rather than just their job title, will strengthen your brand positioning and campaigns going forward.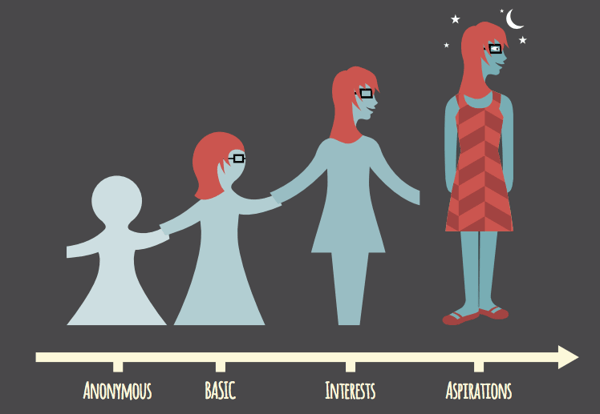 Focus on benefits over features
After you research and document your buyer persona, review your existing website copy and content. Does it explain what your business does, rather than the problems it can solve your customer?
The modern B2B buyer wants sales and marketing focused on their biggest afflictions. Not yours. So from an emotional standpoint, you can stand out from your competition by demonstrating not only the cold facts of what you offer, but also the outcome of these features and the emotions felt by overcoming challenges.
This is a small form of storytelling that lets your prospects see and feel how their personal challenges can be fixed with your solution.
A previous rendition of Slack's website did this very well, with both the main feature ('a messaging app') and individual cases of their product in use (including NASA) as well as the effect it had on the business.

Segment your email database
Now that you've generated a ton of leads from your personalised marketing approach, and clarification that you're here to solve their pain points, it's time to segment your contacts into lists.
Scattergunning the same email out to all of your contacts is a sure-fire way to alienate some of your contact database, and have people unsubscribe from your updates. Instead, you need to use the wealth of information you've gathered into your CRM to offer the right content to the right prospects at the right time.
That way, you can send relevant content to these people based on a variety of information, including:
Job titles

Most engagement, medium engagement, and least engagement

Organisation type (eg non-profit, e-commerce)

Recent pages visited
For those that have Hubspot, you can also use the brilliant smart content feature, which allows you to personalise the content on your landing pages, emails, and blog posts depending on some of the segmentation criteria above, as well as the source the visitor came from (ad, social post, etc). Utilise and test the tool to fulfil its potential.
Follow-up and remarket
Now you've sent out your segmented email to those with specific pain points, what does the follow-up process look like afterwards?
First of all, your emails should come from a person, not a hello@ or marketing@ email address. Secondly, why not follow up the email with a workflow that helps to further solve the original pain point? For example, if the first point of contact was a blog post to salespeople about better outreach emails, your workflow can send a guide about sales outreach best practice to those that opened the email.
If you have enough contacts, you can also use LinkedIn matched audiences and Facebook remarketing to offer personalised ads to segmented groups of your database. If you've established a common pain point that all these contacts have, then you are bound to increase your click-through rate if you offer powerful content to help solve these specific pains.
Conclusion
Salesforce's State of Marketing report states that 65% of business buyers say they'd switch brands if a company didn't make efforts to personalise their communications. If this is a number taken from existing customers, what chance do you have of acquiring new ones if you don't personalise your marketing?
The four tactics above are simple ways to personalise your marketing and ensure that your audience are getting the right content to help them solve their challenges, at the right point and in the right places. There are plenty more tactics and insights into the modern B2B in our free guide 'What Prospects Want.' Get your copy and evolve your marketing strategy today.