Running a marketing strategy is no longer simply the job of the Marketing team. Similarly, responsibility for sales is no longer just under the umbrella of Sales or New Business. Instead, successful sales-oriented marketing strategies should be run by both Sales and Marketing; working in harmony to achieve conversions and demonstrate real ROI.
When it comes to high-value, low volume industrial products, your marketing strategy needs to include the following outputs:
A buyer persona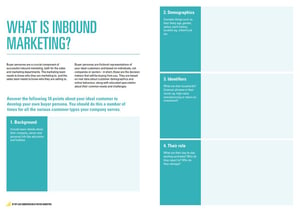 Buyer personas are a crucial component of successful inbound marketing, both for the sales and marketing departments. The marketing team needs to know who they are marketing to, and the sales team needs to know who they are selling to. Buyer personas are fictional representations of your ideal customers and based on individuals, not companies or sectors - in short, these are the decision makers that will be buying from you. Some examples of the information you need to create a buyer persona include:
Background and demographic information
Identifiers and their professional role
Values, goals, challenges and expectations
Goal setting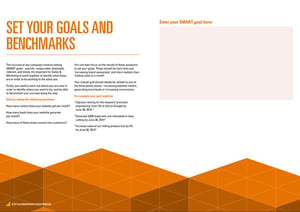 The success of any campaign involves setting SMART goals - specific, measurable, attainable, relevant, and timely. It's important for Sales & Marketing to work together to identify what these are in order to be working to the same aim. Firstly, you need to work out where you are now in order to identify where you want to be, and be able to benchmark your success along the way. Ask questions of your teams, such as:
How many visitors does your website get per month?
How many leads does your website generate?
How many leads convert into customers?
Create an SLA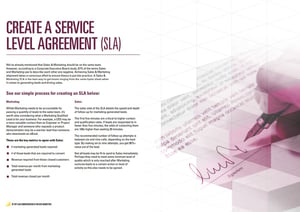 According to a Corporate Executive Board study, 87% of the terms Sales and Marketing use to describe each other are negative. Achieving Sales & Marketing alignment takes a conscious effort to ensure theory is put into practice. A Sales & Marketing SLA is the best way to get teams singing from the same hymn sheet when it comes to generating leads and driving sales. Key metrics should be used to align the sales and marketing teams' activities, such as:
Revenue required from those closed customers
Total revenue per month from marketing-generated leads
Total revenue closed per month
Develop premium content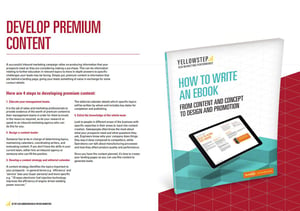 A successful marketing strategy relies on producing information that your prospects need as they are considering making a purchase. This can be information relating to further education in relevant topics, to more in-depth answers to specific challenges your leads may be facing. Simply put, premium content is information that sits behind a landing page; giving your leads something of value in exchange for some contact details. To develop premium content, be sure to:
Educate management on the role of premium content
Assign a content leader who will manage the project
Develop a content and promotion strategy
Enlist the knowledge of experts internally to write the content
IMPLEMENT MARKETING ASSETS
With a framework in place, marketing assets now need to be implemented to start generating sales-ready leads. As part of the marketing strategy you should think about creating landing pages, call-to-actions, lead nurturing workflows, blogging and social media to get maximum engagement.
To see how you can achieve this to implement a marketing strategy for industrial products sold by your company, download our free Sales-Ready Lead Generation Guide. Learn:
How to develop valuable content

for your target audience
How to

capture leads

through landing pages
How to

nurture contacts through email automation
How to

track and report

on success