One of the benefits of being a HubSpot Agency Partner is that you get access to some seriously useful training. Over the last eight weeks, I have been taking part in a Pipeline Generation Bootcamp with Dan Tyre, a HubSpot Director, author, time-served sales professional, and high-impact sales coach. The focus of the training was to build our sales pipeline with intense sales activity.

What follows are the best B2B sales tips from the eight-week bootcamp.
THE OLD SALES PLAYBOOK DOES NOT WORK
That the old sales playbook is no longer as effective as it once was didn't come as a surprise, but it was nice to be reminded of it.

Information is no longer at a premium for buyers. At our fingertips, we all have Google, online reviews, YouTube, social networks, websites, Gartner Magic Quadrants, to name but a few sources of information. As such, sales reps have lost some of their power.

As a result, the tide has turned from what was previously a seller-centric market, where sellers held the balance of power, toward a buyer-centric market, where buyers have information at their disposal and sellers having to change their tactics.

Which is where an inbound sales process comes in.
CONSISTENCY IS KEY
Developing a consistent approach to sales outreach is probably the most important thing I learnt in the bootcamp. It's not an exciting tip - there's no significant new tool to use or clever new acronym to learn - but that's doesn't diminish the importance of the lesson.

Before the bootcamp, I had an approach to sales that looked something like this...

An inbound leads drop into the inbox. I'd call and send a follow-up email. Then I completely forget about the lead for a few weeks when I'd eventually call them again. Then months might go by, and the lead might get a call from me again, by which time I was just a stranger to them.

Building out my sales sequence and sticking to it has made my sales outreach ten times more effective. This is what my outreach looks like now.

Day 1 - First call

Day 3 - First email

Day 6 - Second call

Day 8 - Second email

Day 10 - Third call

Day 12 - Third email

Day 14 - Fourth call

Day 15 - Fourth and final email

It's consistent. I have HubSpot Sales tools to help me automate some parts and to add the calls to my task list.

How are the results so far? Great. People respond. People engage. People appreciate the outreach and the follow-ups.
ALWAYS BE HELPING
"Anytime you're tempted to upsell someone else, stop what you're doing and upserve instead."

― Daniel H. Pink, To Sell Is Human: The Surprising Truth About Moving Others

The popular myth related to salespeople is that they need to be extroverted, pushy and always looking to close the deal. The truth is, no one likes being sold to like that and most successful sales reps aren't that way inclined either. It wouldn't come naturally to them!
Instead, the best salespeople take the time to listen and understand the pain points that the prospect is facing before setting out their stall. They aren't pushy extroverts, nor are they meek and mild introverts - they're ambiverts. Helpful ambiverts, at that.

In 2011, Adam Grant of Wharton University researched the performance of introvert vs extrovert salespeople at a software company. The results were pretty conclusive: ambiverts sell more than extroverts and introverts.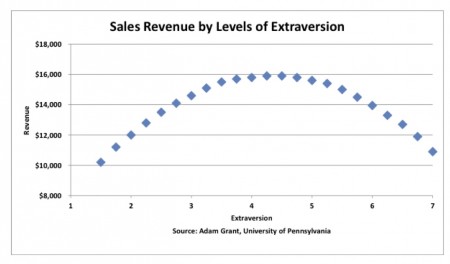 Image credit: Daniel Pink
Using video is sales is a gamechanger
Sending an email with a link to a personalised video is going to change the way we interact as salespeople.

During the bootcamp I was introduced to Soapbox by Wistia, a free Chrome extension that allows you to record messages using your webcam while also sharing your screen, allowing you to record a sales outreach tailored to your prospect.

I'm entirely sold on the concept, and so far I've had a great response to this outreach in all but one instance.

That said, I appreciate that all of our inboxes could soon become saturated with sales outreach. In fact, just this week I received a video outreach email that was a generic email to a mass audience. It wasn't personalised beyond having identified me as a HubSpot user, and it felt lame.
SMILE
Here's a little experiment to conduct with a colleague. Ask them to call your phone twice. The first time they call, tell them to say hello as they usually would. The second time they call, ask them to say hello with a big smile on their face.

Do it now. I'll wait.

...

...

...

Was there a big difference between the two calls? Was the call from the smiling colleague warmer, friendlier and more welcoming?

In the calls we made in the pipeline generation bootcamp, it made a huge difference. As well as smiling, we were told to stand up when we make our calls. These two simple tips - stand up and smile - made our roleplays call sound significantly better.

Maybe that is the secret to sales success.

Stand-up and smile.